Tailored On-Site Massage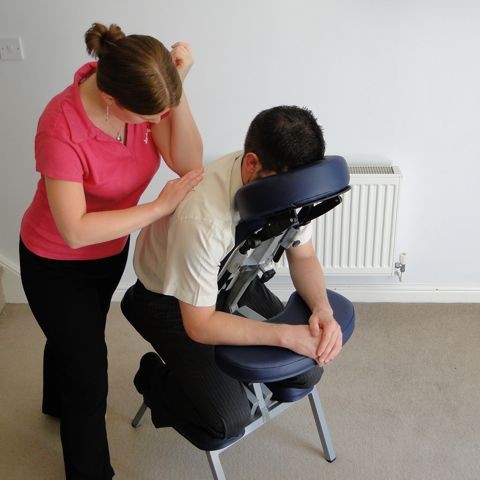 Whether you're running a company full of office staff, or you're hosting an event or a festival – we can help your employees, staff and guests to relax and enjoy their day even more.
You and your clients/guests/employees sit in our ergonomic massage chair. You do not need to remove your clothing and oils are not used. Seated massage usually lasts for 20 minutes (can be reduced to 10 or 15 minutes), so is an ideal treatment in busy working environments, shopping centres, airports and is also ideal for outdoor events, such as festivals, parks and gardens.
In an office environment, our aim is to relax you, to help remedy any muscular aches and pains that you are experiencing from sitting at your desk for long periods of time, to help to reduce stress and to promote health and wellbeing.
Chair Massage at the Office client

July 2018

I liked that the massage was tailored to my preferences and that if I wanted more or less pressure then it was applied. I felt relaxed and for the rest of the afternoon, I found myself sitting upright and not slumping at my desk.
We will tailor the treatment to you, but here are some suggestions of what we can offer you:
Relaxation Chair Massage
A gentle massage using Seated Acupressure techniques to work the full back, shoulders, neck, arms, hands and head with an average amount of pressure, according to your preference. This is a very soothing treatment, which will help to reduce stress and encourage relaxation.
Indian Head Massage
This treatment is extremely relaxing. We work the neck and shoulders with an average pressure to suit and then focus on massaging the scalp. This treatment is so relaxing it can put you to sleep – so don't choose it if you can't have your work break straight afterwards as you won't get much work done immediately afterwards and we don't want to get you into trouble! This is a great treatment to help reduce hair-loss and to increase your hair's volume and body.
Back, Neck and Shoulders Massage
This is our standard massage treatment. You choose how much pressure you want and we focus our treatment on releasing tension in your back, neck and shoulders. If you have a particular problem, let us know and we can spend longer working on those areas, for example, choose this treatment if you have an achy lower back, achy neck or tension between your shoulder blades. It's a relaxing treatment, but it's releasing and should leave your muscles feeling lighter and less uncomfortable. The more pressure you request, the more it might ache the next day – but you will experience longer-term beneficial effects after the massage if we work with strong pressure.
Feel free to discuss which sort of massage you might like when you come for your treatment and always let us know if you're not happy with what we are doing – we just want you to enjoy it!
To discuss booking On-Site Massage at your event or for your workplace, please contact us for more details.
Seated Acupressure

November 2015

The treatment was very relaxing, exactly what I needed in the middle of a busy week. I definitely felt more relaxed but at the same time more rejuvenated for the rest of the day. Within the workplace my treatment was perfect.

On-Site Chair Massage client

October 2015

My massage with Claire was very relaxing and released some shoulder tension/back aches. Enjoyed the music! My back was a bit sore that day, but it's been much better ever since!