Deep Tissue Massage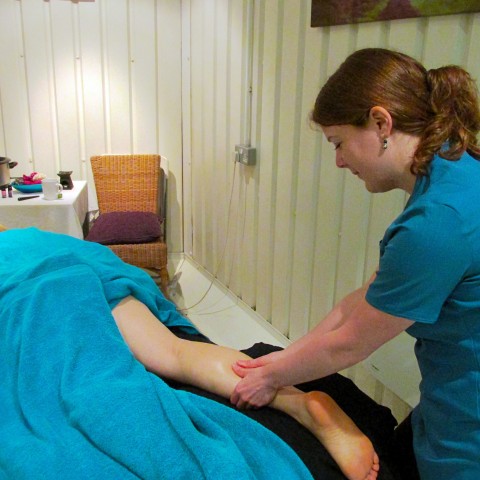 If you're feeling achy, but don't quite feel that Sports Massage is the treatment for you, Deep Tissue is the half way house between Sports and Swedish massage.
We work particular areas of your body during the treatment, using deep pressure to release muscle tension, reduce muscle fatigue and to ease aches and pains.
If you suffer from tense shoulders or lower back pain, this could be the treatment that will suit you best. Deep tissue is less intense than Sports Massage, so it takes a longer amount of time to get the same results. For a decent back, neck and shoulder massage with maximum results – book in for at least an hour-long treatment.
SL

January 2021

I can't find enough positive adjectives! Jayne is knowledgeable, communicative, intuitive, skilled and perceptive. She is amiable and easy to be with, but very informed and informative. She got to the core of my problem exceptionally quickly. She truly cares about what she is doing and the person she is treating. I've had many many massages over the years. This was unique. I booked another before I left the room. That surely says it all. The treatment significantly reduced the pain from my problem. I slept better, had much less discomfort and increased mobility. I can't think of a thing you could improve on. Keep doing what you do. I'm glad I found you.
Deep Tissue Massage – £55 – 60 minutes
So you have aches, pains and problem areas, but you don't want to feel too sore the next day? This is the treatment for you. You choose your pressure. You discuss where the issues are with your therapist, and we will use our remedial expertise to reduce your aches and pains without over-working your body. If you want a deep massage and you don't need to worry about feeling a little tired and sore the next day – check out [Sports Massage]
Deep Tissue Massage – £75 – 90 minutes
Massaging out tension can take time – especially if you don't have regular massage treatments. If you have an achy back, neck and shoulders, but your legs are feeling pretty tight too – opt for our 90 minute treatment, so we have the time to work on all of the problem areas.
Full Body MOT – £55/hr – as long as it takes
You like the sound of a full body treatment, but you want all of the issues to be addressed and don't think that a Swedish massage is going to quite cut it? – achy shoulders, achy legs, tight IT Band, neck pain…. Choose our full body MOT and we will work on it all. It takes as long as it takes – dependent upon your body size and issues. You pay an hourly rate of £45 and need to allow for a minimum of two hours for this treatment. Under no circumstances should you plan to do ANYTHING after this treatment, except sleep and drink water and relax – completely. The last time this was done, it took 3hrs 15 minutes and the client in question slept for 18 hours after…
HG

September 2020

Excellent! Great massage, Jayne explained why she was doing certain things and how that would benefit me. Jayne relieved tight muscles and gave me relaxation exercises to help going forward.

MW

September 2020

Very informative and a wonderful massage and interesting facts about my condition in my left shoulder & back. I was a little tired post treatment but had less pain in the shoulder the next day; well impressed. Are there any additional treatments you would like Jayne Sarah Therapies to provide? Thank you Jayne Sarah, fabulous treatment and looking very positive to further successful massages to eventually cure my pain. Well Done.