Hot Stone Massage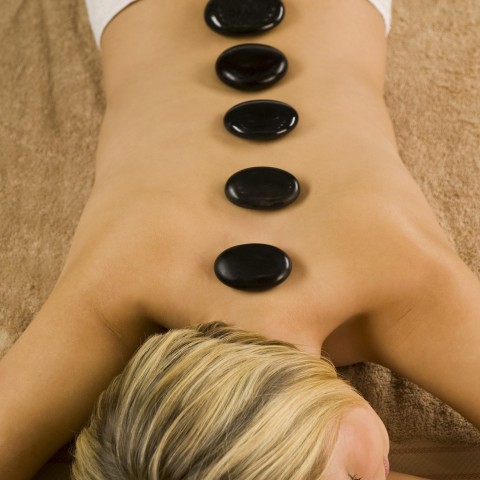 Stone Massage Therapy uses heated basalt stones and cool marble stones to massage muscles. Treatments can either be relaxing or invigorating, depending on the treatment you choose.
Hot stones may be placed on you or beneath you to warm muscles and we will also massage you with hot stones in order to break down tension and relieve aches and pains.
Hot Stone massage therapy can be likened to having a hot bath without getting wet, or burying your feet in warm sand. It's a lovely way to de-stress.
Cold stone therapy is mainly used as a detox treatment because it promotes lymphatic drainage and can be particularly effective after exercise.
Hot Stone Massage Therapy

February 2015

From my first massage with Jayne Sarah, I have been really impressed by her scientific approach and the strength of her fingers! I have been back to her many times with specific problems for her to work on, as well as just to get lovely relaxing massages. She tailors each massage to exactly what you want on the day and I am so pleased I have found such a great therapist to go back to again and again.
Full Body Hot Stone Massage – £70 – 75 minutes
A 75 minute full body massage using heated, basalt stones. You are massaged with the stones and also lie on a bed of warm stones. The heat of the stones warms the skin encouraging the absorption of moisturising and therapeutic oils. Each stroke of the stones is worth 10 strokes of the therapist's hand, so your muscles are massaged deeply, reducing general aches and pains. This is a warming treatment and deep massage, helping your body to relax, detox and heal.
Remedial Hot Stone Massage – £60 – 60 minutes
This is a combination of deep tissue, sports massage and hot stone therapy. Stones are used to aid in the warming of the muscles and to deliver deeper pressure in a remedial deep tissue massage; incorporating sports techniques and stretches where appropriate. Not for the faint-hearted – this treatment will leave you feeling very relaxed, very sleepy and a whole lot looser.
Hot Stone Foot Wrap – £5
Add a little something special to your usual massage treatment and allow your feet to be wrapped with hot stones. You will feel like your feet are buried in warm, sun-kissed sand.
Hot and Cold Stone Facial – £5
This short treatment serves as a wonderful addition to any massage. Hot and Cold stones will massage your aching temples and jaw, encouraging the absorption of moisturising and therapeutic oils, promoting sinus drainage, and reducing the appearance of dark circles and puffiness around the eyes. The end result is radiance.
Hot Stone Massage

December 2012

Hot Stone massage was really amazing. A totally unique and new experience for me, and I thoroughly enjoyed it! After the massage I was a bit achy in my shoulders, (as Jayne said I would be) but a day afterwards I feel much, much looser where before I had tension, and a lot less pain in my shoulders also. I also found I was very relaxed after the massage and slept very well! I thought the hot stone treatment was really excellent and would recommend it to anyone who wants a relaxing and unique treat for themselves!

Hot Stone Massage

September 2012

It was very relaxing and enjoyable as a general treatment. I was also very pleased with the results on my shoulders of the deeper work that was done. Overall, the best massage I have had. I would definitely have that treatment again. Benefits included: Significant reduction in shoulder pain. Better movement in shoulders. Increased awareness of posture (thanks to comments afterwards). General wellbeing.