Indian Head Massage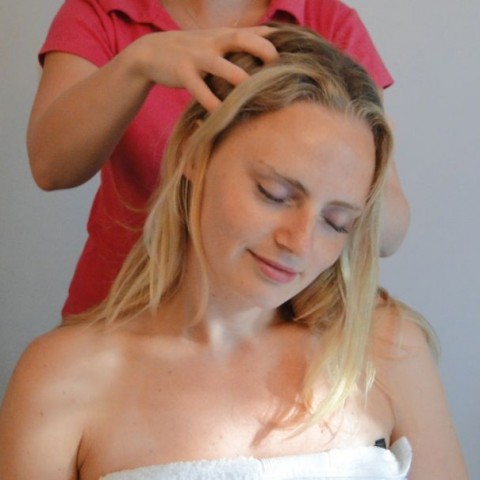 Indian Head Massage is a seated massage, which is based on Ayurvedic principles. It's a stress buster and works from your shoulder blades upwards – easing aches and pains in your shoulders, neck, arms, scalp and face.
Scalp massage stimulates hair follicles, encouraging hair growth and reducing hair loss. Oils can be used on the scalp, which improve the condition of your hair. Sinus drainage moves can be performed, which are brilliant for allergy sufferers or if you are recovering from a cold. Ultimately, this is a relaxing treatment that will hopefully set you up for a good night's sleep – best received at the end of your day.
NG

May 2019

This was a fantastic head and shoulder massage - thanks for getting rid of an ongoing muscle issue further down my back.
Indian Head Massage – £45 – 45 minutes
Your shoulders and neck will be massaged deeply to reduce muscle tension, the treatment includes work on the upper arms and scalp, with sinus drainage moves on the face and optional chakra cleansing to finish. It's very relaxing and can help you to sleep deeply after the treatment. Scalp massage can be performed with or without oils and will improve the condition of your scalp, stimulating the hair follicles and improving the hair's condition, encouraging growth.
Indian Head Massage – £55 – 60 minutes
The more time we can spend with you, the longer we can spend reducing the tension in your neck and shoulders. If you have the time and the inclination, opt for the 60 minute massage for optimum relaxation.
Indian Head Massage

March 2016

Very relaxing & therapeutic, just as expected. Jayne is an experienced therapist with a calming, friendly & professional attitude. Felt relaxed. Shoulders felt warm & slightly more flexible. Thank you Jayne, see you in a couple of weeks for my next treatment.

Indian Head and Thai Foot Massage

February 2016

Lovely. Absolutely excellent massage, lovely chat, made to feel very relaxed and it really helped with issues I had. I will be back. Sore shoulders much better and Achilles heel issue has nearly gone. Wish I'd been before.