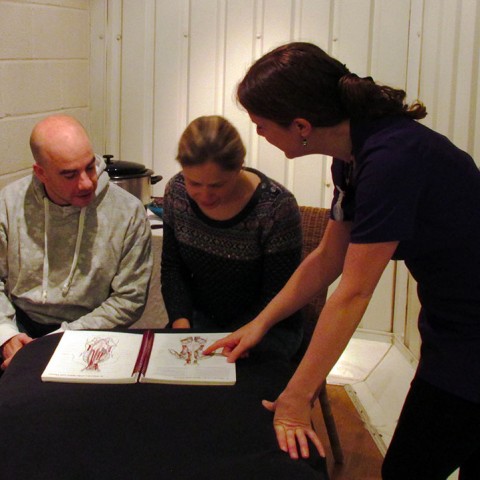 Massage Workshop For Two
Massage Workshops are held at:
Trym Lodge, 1 Henbury Road, Westbury-on-Trym, Bristol
BS9 3HQ
Learn to massage your partner
Massage has been practised for thousands of years and by people without any form of qualification. It has huge benefits and if it is received regularly, it can have a dramatic effect on your life both mentally and physically.
To Book your Massage Workshop for Two, text 07988 863914
CH

September 2019

The workshop covered a lot of different things, and it was very individually tailored to our particular needs and requests, which was great. Jayne Sarah took the time to get to know what we wanted, and was able to transmit her knowledge in a clear and instructive way. Even though we overran, at no point did we feel rushed - it was thoroughly relaxing from start to finish! After the workshop we felt extremely relaxed, both physically and mentally. Better informed about how to massage, using the correct techniques and movements to help. We definitely learnt a lot, and the fact that we were able to film Jayne Sarah giving one of us a massage at the end was especially helpful for later reference - thank you for this! We're two very happy customers 🙂 Jayne Sarah's extensive knowledge and enthusiasm for massage was really clear to see, and she made us both feel really comfortable and a lot more confident.
Benefits of massage
Relaxes the body and mind
Reduces general and specific muscular aches and pains
Soothes the nervous system
Helps promote digestion
Increases the mobility in joints
Promotes good mental health and reduces physical feelings of stress and anxiety
Helps your immunity by increasing white blood cell counts
Improves recovery from exercise
Alleviates sleep disorders, and many more emotional and physical problems
But having a massage on a regular basis is not always practical or affordable.  We've heard the story a thousand times; "my partner won't massage me", or "s/he stops after five minutes".
During your private massage workshop you will learn
How to massage safely and confidently, delivering a relaxing and enjoyable massage
How to massage without your hands aching
Basic effleurage techniques
Specific techniques such as percussion, friction, kneading and when best to implement them
How to relieve particular areas of tension that your partner suffers from
A simple routine to follow that has been designed and tailored especially to suit you and your partner's needs
Contraindications to massage (when not to do it)
AR

August 2019

The workshop was wonderful, clearly and carefully explained. Jayne Sarah was patient, funny and hugely charming. Great company and put us immediately at ease. After the workshop we experienced immediate relaxation and sense of wellbeing. Thank you so much. The workshop was immensely useful. We will reuse the techniques we learnt. I never expected to learn so much. I would happily recommend Jayne Sarah Therapies. By far the best massage and treatment I've ever had.
What will happen during the massage workshop?
The best way to learn is by doing, and so following a thorough introduction and outline you will take it in turns to massage each other.  This means that for approximately thirty minutes of the workshop you each will be having a relaxing massage.
Your lesson will involve actively performing a massage as your instructor guides and coaches you to perfect the techniques. Your massage will follow a standard massage sequence and you and your partner will be taught to constructively feedback so you can both receive the most effective massage possible.
Can I really learn to give an effective massage in 2.5 hours?
Absolutely, massage is not rocket science. There are a few simple techniques to practice and after that you will be able to confidently deliver a relaxing massage to your partner.
This course does not qualify you to deliver massage and charge for it.
Most massage therapists learn to massage in exactly the same manner that you will, but what then separates them is practice.  By regularly practicing your massage techniques you will begin to discover that you can feel what is happening under the surface of the skin.
Feedback from your partner is what helps to make you increasingly confident and competent.
The details
Your massage workshop will last 2.5 hours in total
The cost of our 2.5 hour Relaxation Massage Workshop is £140
This price includes you being able to video the individualised routine that we create for you
To learn to massage you need to bring a partner or a friend and you will both practice giving and receiving massage
This workshop does not qualify you as a massage therapist in any way
If you suffer from any of the below issues please consult your doctor before attending:
Contraindications to massage:
Fever, High blood pressure, Infectious diseases, Hernia, Osteoporosis, Varicose veins, Broken bones, Skin problems, Cancer, HIV infection. If you have any other medical conditions that might affect your suitability for the workshop, please just get in touch with me and I can advise you.
Jenny

March 2019

Our workshop experience was really positive - Jayne Sarah made sure we were relaxed and it was a great balance of hands on learning and scientific theory. The workshop made me feel very connected to my partner. It was a very useful session - having taken the time to find out about our individual bodies and what we do on a regular basis meant Jayne tailored it to us. Thank you for a great experience - very good value!
Remedial or Sports Massage Workshop
The Price for this Workshop is £140 for 2hrs 30mins with Jayne
This price includes you being able to video the individualised routine that we create for you
This workshop takes the same structure as above but is far more individualised.  During this session the massage therapist will help you to discover the best way to massage specific areas of tension you might have.
For example you may spend long hours at a desk and suffer from tight shoulders and neck.  Stopping work is not an option and regular massage can be costly and time consuming.  We can help your partner learn to work out your specific stresses and help make your neck pain a thing of the past.
During the Sports Massage Workshop you will learn:
Deep Tissue massage
Deep friction
Trigger pointing
Effective use of thumbs, knuckles, forearms and elbows.
Indian Head/Chair Massage Workshop
The Price for this Workshop is £140 for 2hrs 30mins with Jayne
This workshop takes the same structure as the Relaxation Massage Workshop above, but focuses on the upper back, neck, arms, shoulders, head and face. This is a seated massage and is ideal for those looking for a relaxing treatment. For more information about Indian Head Massage, please see our Individual treatments page.
Thai Foot Workshop
This workshop also takes the same structure as the Relaxation Massage Workshop, but focuses on the feet and lower leg. For more information about Thai Foot Massage, please see our Individual treatments page.
Kyle

February 2019

The Workshop was very informative, relaxing and an all round wonderful experience. The benefits were: pain relief and release of muscle tension and a bonding activity for me and my partner to share. The workshop was very useful. It has given me and my partner the confidence to massage each other, and the skills to do it effectively. Jayne creates a welcoming and relaxed environment that is great for someone like me - who has never had a professional massage before.